Finally catching up on the latest series – though half of it's still on my DVR, but hey there's plenty of time till Christmas anyway!
Sentient Oil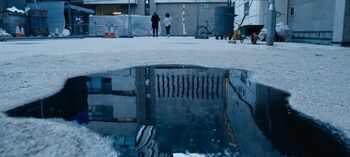 A typically vague Who monster. I mean this 'oil' is sentient, can acquire a pilot, shapeshift, take a blast from a Dalek and chase the Doctor across time. I'd hat to see what the actual starship was like – it seems way more advanced than the TARDIS itself, but no one seemed too curious about that!!
Sentient oil was left by an advanced ship which landed on 21st century Earth. Lacking directive the oil consumed a student named Heather who had a desire to leave and filled to role of Pilot. Due to Heather's attachment to Bill the oil pursued her across time and space until they could let each other go.